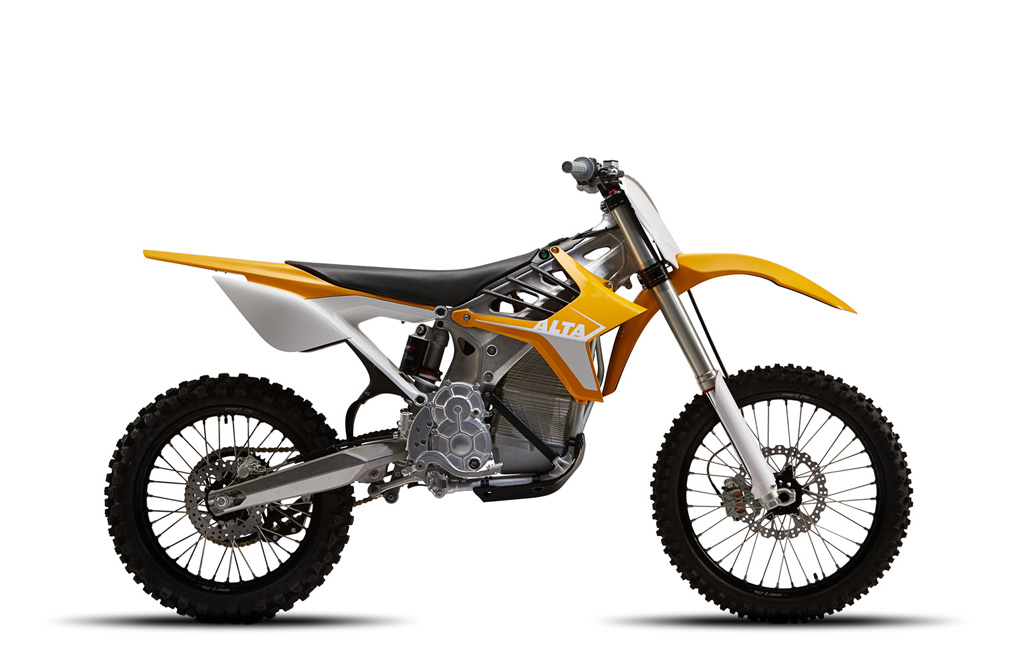 Redshift by San Francisco-based Alta Motors is an electric dirt bike powered by a 25 or 40 hp water-cooled motor with an approximate range of 50 miles. The off-road motorcycle has a top speed of 85 mph and rides on 17 inch wire-spoked wheels and has 12 inch, fully adjustable suspension at both the front and back.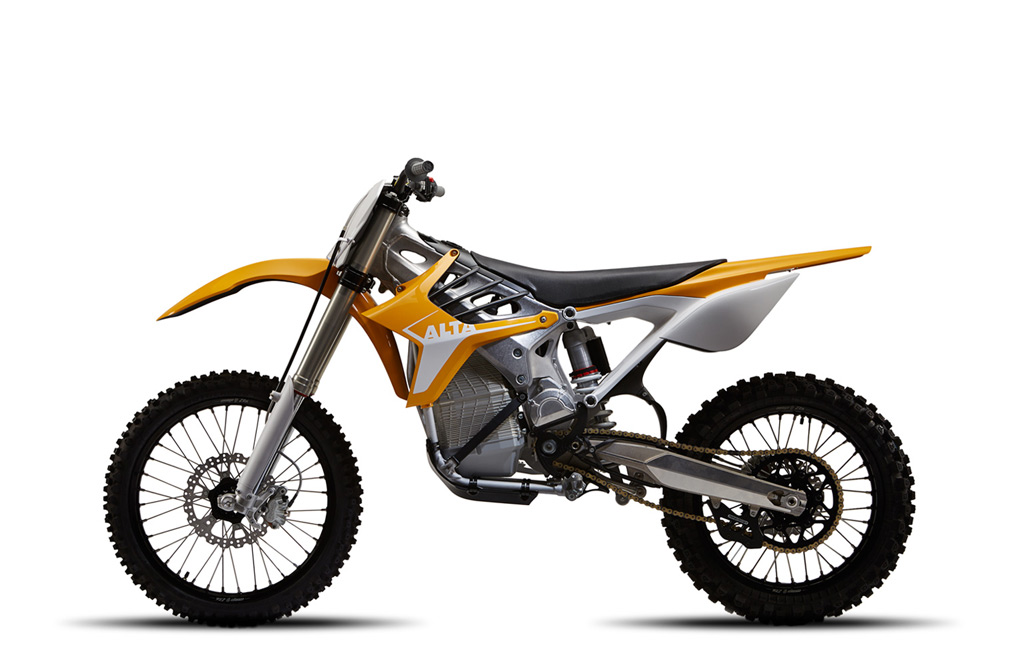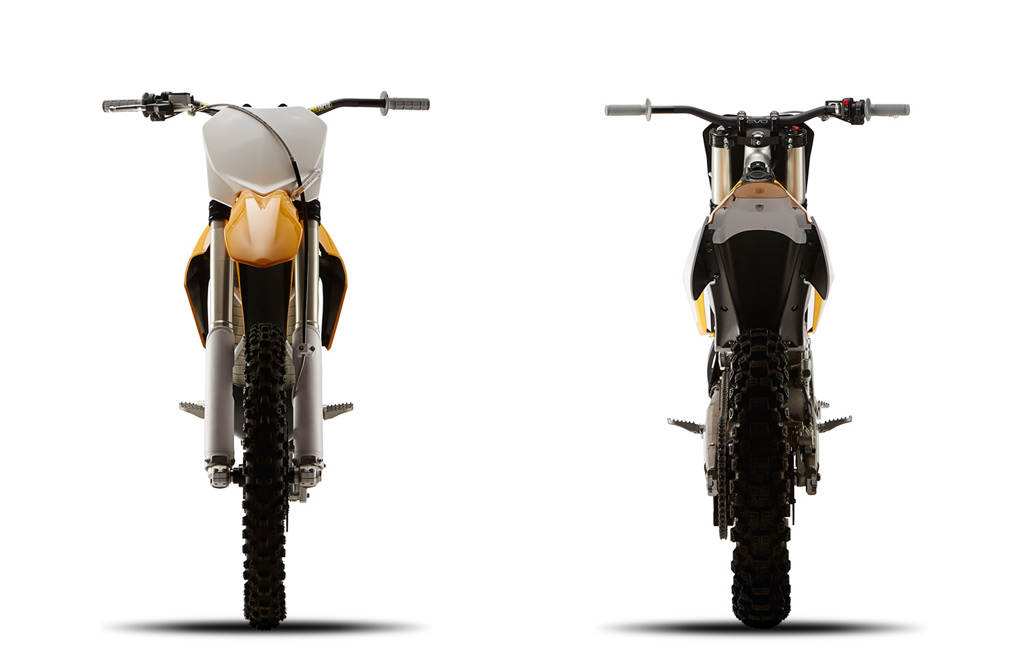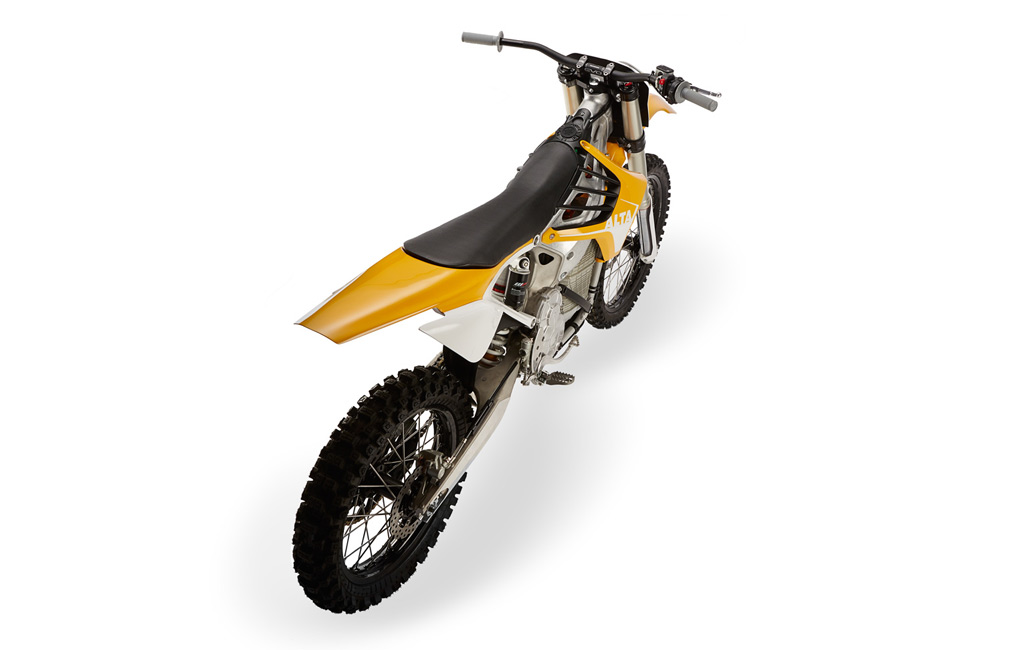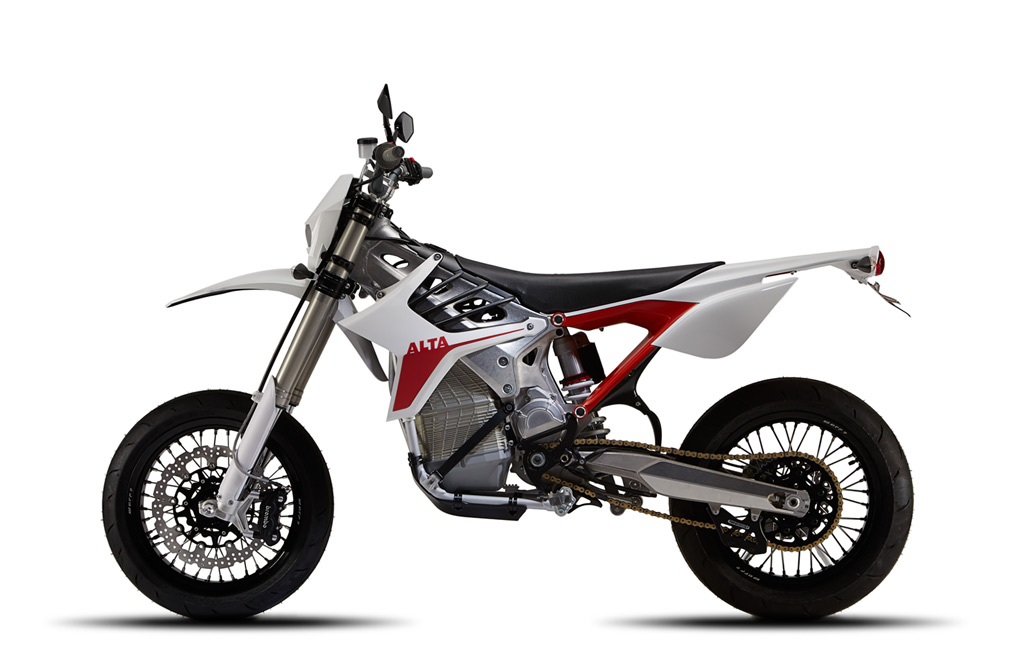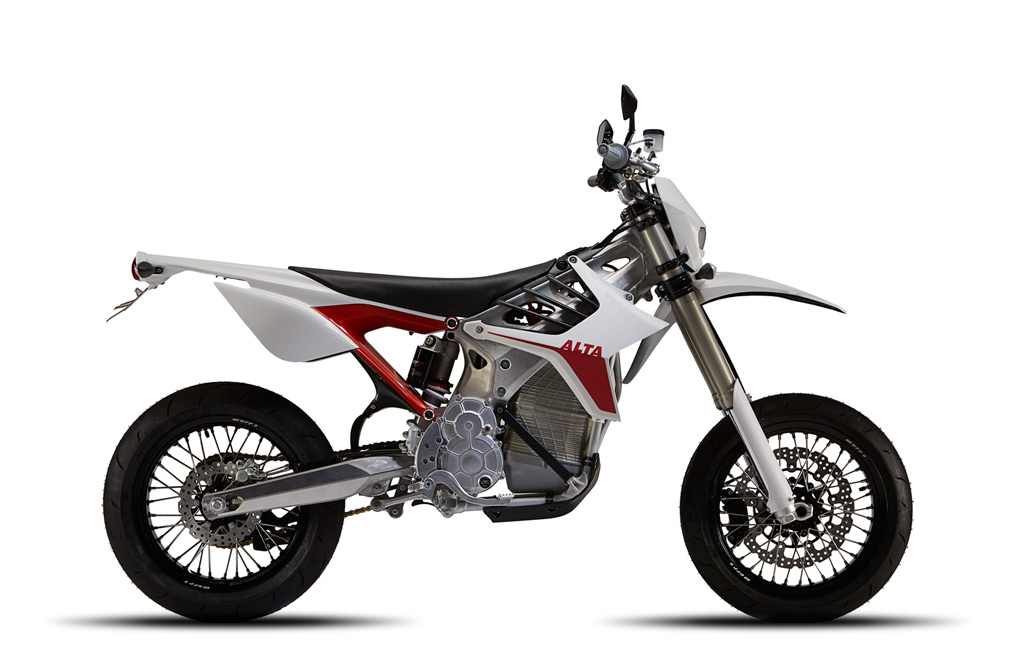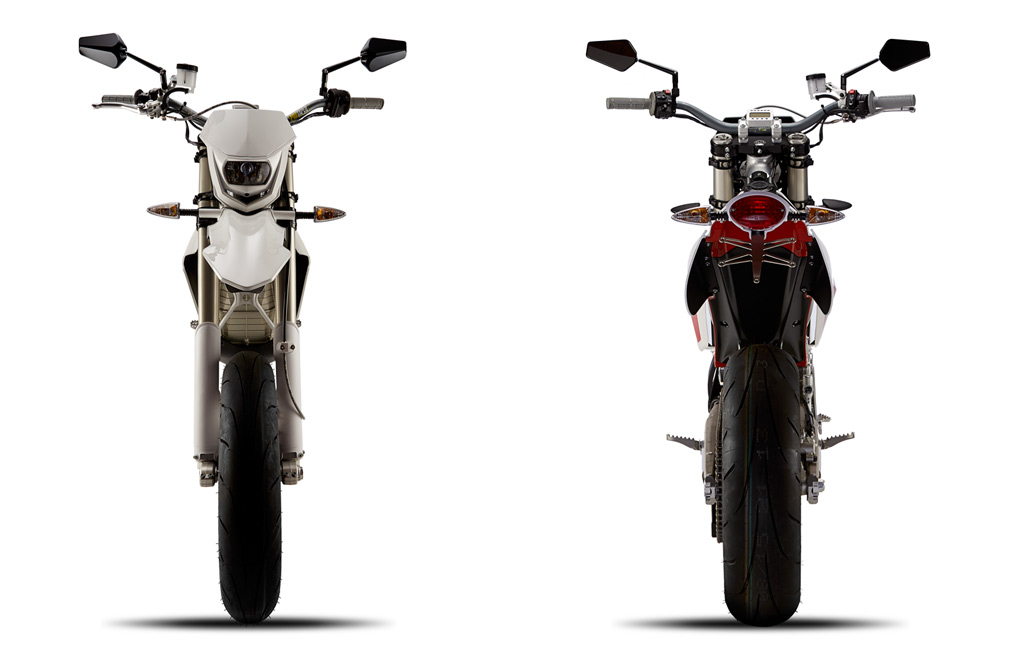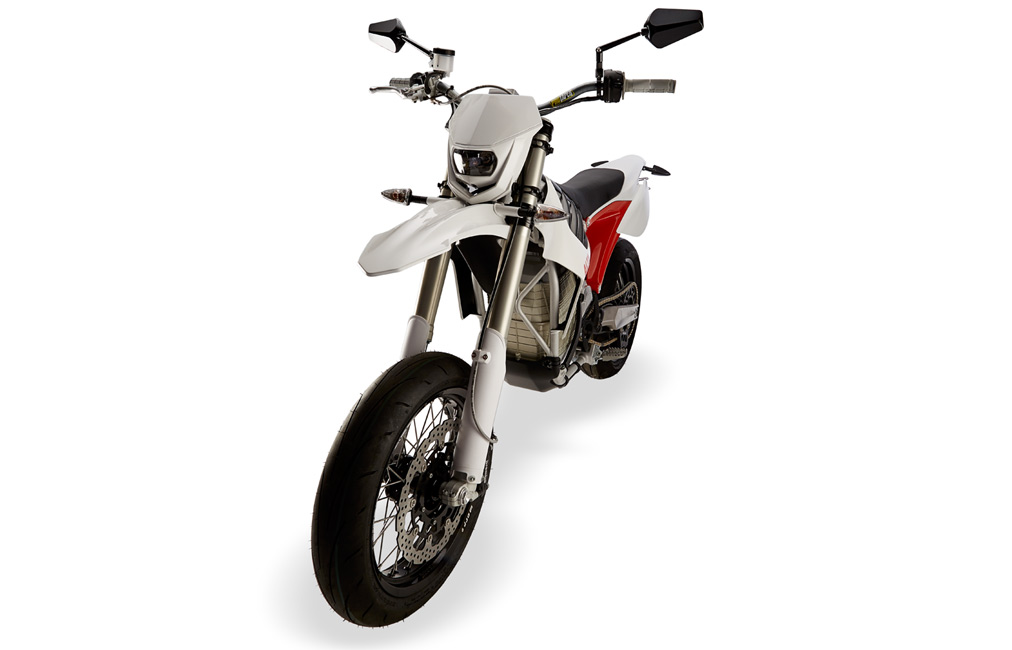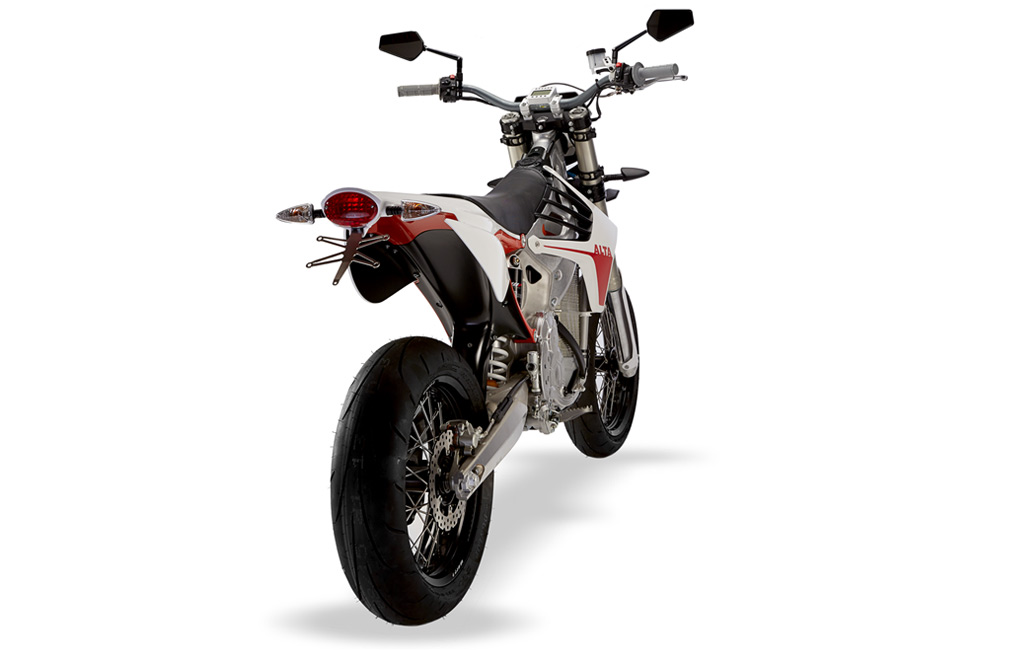 From the producer, "Every component of the RedShift chassis and drivetrain is designed from the ground up to achieve maximum strength per pound, working in concert together as a whole. This allows us to remove all extraneous material and componentry, and assign most parts to do many jobs, even across systems.
The Redshift Bulkhead, the chassis core, functions as the outer motor casing, the cooling circuit for the motor and inverter, as well as the transmission case for the gear reduction. Additionally, it is the main structural hub, connecting to the rear suspension, the airframe, the forged monocoque chassis, and the trellis skidframe. All of this integration has to be coordinated with very specific strength, weight, and stiffness goals to produce the right ride and compliance characteristics at all lean angles and under impact. Traditional siloed disciplines would make this outcome impossible, but Alta's integrated engineering teams and proprietary development tools make such parallel processing possible.
The Alta Pack crams 5.8 kWh into 30.8 kilos with a maximum of 350V: mile for mile, there is no smaller, more compact, energy dense battery pack in transportation. The team spent three years developing and commercializing a suite of wholly new pack technologies in order to achieve the performance and safety we demanded of an off-road race bike. The Alta Pack is water proof rated up to IP67, built durable enough to handle shocks and vibes up to 20G, and is digitally self-monitoring. Our stacked honeycomb architecture allows for extreme energy density at 185 kW per kilogram, combined with a unique thermal wicking system to shed heat faster than any other lithium-ion transportation battery in production.
Alta's proprietary water-cooled motor control is a clean sheet design with both the hardware and the software developed in-house to be the perfect partner to our high-speed permanent magnet brushless motor. This provides the most direct, instant connection possible between the rider's throttle hand and the rear tire. Not only is the motor control's power tunable to the conditions and the riders style, but can be flipped between maps on-the-fly to respond to changing conditions like hard-pack, mud, and fresh rain.
Alta's water-cooled 14,000 RPM motor is pound for pound one of the most powerful in motorsports. It's optimized to the narrow width of the Redshift's bulkhead and is located at the precise roll center of the bike. This placement allows for the lowest polar moment of inertia in motorcycling, drastically minimizing any gyroscopic impediment to handling.
The result is a 15lb unit that puts out 40hp and 34 ft-lbs of torque, and is combined with a seamless 3.5:1 gear reduction for delivering a whopping 122 ft-lbs of torque at the counter shaft from zero RPM.
There's plenty of torque to loft the front wheel whenever you need to in a bike that corners like nothing you've ever ridden. The faster you go, the more of an advantage you have.
Where existing components meet our performance standards, we utilize the best that the motorcycle world has to offer. Brembo brakes and WP suspension with a rising-rate linked rear suspension means the bike is up for anything you can throw at it, and that spare parts and top notch tuners are readily available.
Freed from the challenges of a hot exhaust system, Alta engineers have re-imagined the ideal off-road subframe structure: strong, light, durable, and comfortable. The core is made entirely of Makroblend®, a resin engineered for exceptional durability. This allows the system to be compliant for rider comfort, and to bounce back rather than bend or break in a crash. To achieve a more efficient (i.e. lighter, stronger) structure, we designed a system of internal ribs and a stressed skin like an airplane fuselage. All together, the Redshift airframe tests at multiples of the strength of a standard aluminum or polymer subframe."